Adult Start 'Sailing' Course2 days €200
Want to Start Sailing?!?
No sailing experience required to Start Sailing and enjoy the craic with the crew while soaking up the views of Ben Bulben and the Ox Mountains.
Learn to sail on a J24 yacht… you wont go in the water… the boat will not capsize… the instructor is right there with you all the time.
Improve your helming, command skills & boat handling as you are coached by our top instructors.
Make a weekend of it …10% discount at the Riverside Hotel Sligo! Just ask us for the code when you book.
Skills You'll learn
Sailing and steering
Sail setting and trimming
Wind Awareness and Points-of-Sail
Basic sailing knots and ropework
"Great experience and awesome instructor with many years of sailing experience! Thanks Dave for the perfect week sailing on the west coast of Ireland. We will come back for sure and do the day skipper course with you. I highly recommend this experience for everyone who is serious about sailing."
Eike Willner – Dublin
Start Yachting / Competent Crew
Competent Crew 5 days €700
Become a Helping Hand on Deck
No sailing experience is required but after the 5-Day Competent Crew Course, you will sail with confidence on any other boat.
Develop your sailing skills and wind awareness under the watchful eye of your instructor. Time to go racing and cruising!
Skills You'll Learn
Helmsmanship and sail trim
Anchoring and mooring
"Strange boat words"
Man Overboard procedures
Sail handling
Day Skipper Practical 5 days €700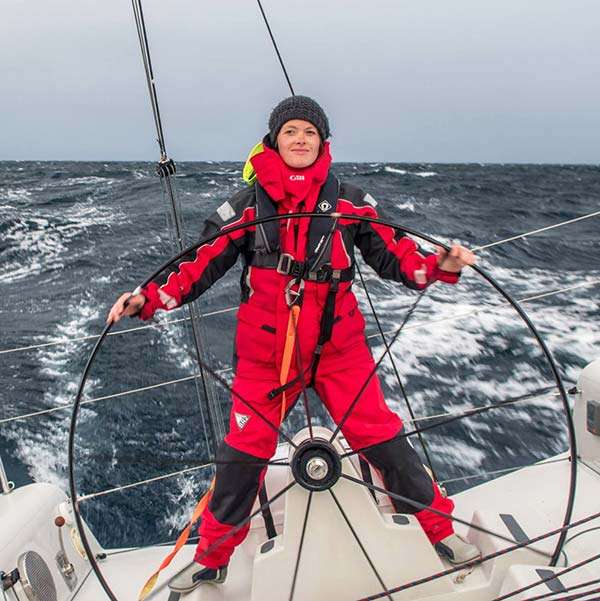 Hit a wall with your Sailing?
"Take Charge" …skipper safely and confidently. Learn to make good decisions at the right time to keep the crew and boat safe and sound.
Our charter holiday industry experience will teach you to stay in control under pressure.
Basic sailing ability and navigation knowledge to Day Skipper Theory level are required.
So, take your sailing skills to the next level with the Day Skipper Practical.
Skills You'll learn
Power handling in confined spaces
Weather forecasting
Sail selection and handling
Marine engine maintenance
Navigation and pilotage
Day Skipper All-in-One 10days €1000
Sail the Med with friends and family!
Learn to fully plan a day's sailing.
"Take Charge"…skipper safely and confidently with the most competitively priced sail training in Ireland and the UK.
Our charter holiday industry experience will teach you to stay in control under pressure.
Join ALL the dots with Day Skipper All-in-One.
Skills You'll Learn
Power handling in confined spaces
Passage planning, navigation and pilotage
Tidal streams and secondary ports
Sail selection, reefing and handling
Marine engine maintenance
ICC (Sail) Training & Assessment
1day €200
Have the sailing experience but don't have the cert?
The INTERNATIONAL CERTIFICATE OF COMPETENCY (ICC) is the perfect charter holiday solution if you have years of boating experience and a Yachtmaster or Day Skipper Theory Certificate.
We will advise what you need to revise before the assessment & what we need to work on, on the day.
Time to plan that holiday!
2 Part Assessment:
Practical Assessment (Day Skipper level)
Written Theory Assessment (Day Skipper level & higher)
Scottish Island Adventure Sligo/Tory/Uist/Orkney/Caledonian Canal/Iona/Tory/Sligo12 Days – €1200
Sail a Race Yacht around Scotland!
If you want to skipper longer passages confidently, or want to surf a fast yacht, this is the course for you.
Learn Yachtmaster Theory in practice while milebuilding 800 QUALITY sea-miles and complete qualifying passages for your RYA Yachtmaster exam.
On completion, you will have all you need for your RYA Yachtmaster Coastal exam.
Our Coastal Skipper Course will challenge you and push your skills but you will feel you have achieved something special.
Skills You'll Learn
Advanced Tidal and Passage Planning
Night Navigation & Chart Plotter use
Engine Maintenance and Troubleshooting
Practical Spinnaker Management
Advanced Helming Techniques, up & downwind
RYA Yachtmaster Skills & Drills Course 5 Days (min.) €750
Become a Yachtmaster
The prestigious RYA Yachtmaster is the natural next step for Coastal Skippers, the vital next step to work in the sailing industry and the pinnacle for all serious sailors.
Our instructor will provide you with the country's top RYA Yachtmaster Preparation Course.
Skills You'll Learn
Mooring in all conditions
Night Navigation
Man Overboard recovery under sail and power
Restricted visibility (Blind) navigation and GPS navigation techniques
Close quarters handling under sail and power
Practicing these sailing skills and drills in an intense environment will not only help you pass your exam, but will make you a better skipper.
Book Your Wild West Sailing Experience!
Pay for your course by Bank Transfer of Paypal