Adult Start 'Sailing' Course2 days €200
Seeking a "Taster" Sailing Session?
No sailing experience required to Start Sailing and enjoy the craic with the crew while soaking up the views of Ben Bulben and the Ox Mountains.
Learn to sail on a J24 yacht… you wont go in the water… the boat will not capsize… the instructor is right there with you all the time.
Come and try a sailing weekend on Lough Gill. If you like it, let's do another 3 days and get your Competent Crew Certificate.
Skills You'll learn
Sailing and steering
Sail setting and trimming
Wind Awareness and Points-of-Sail
Basic sailing knots and ropework
Great experience and awesome instructor with many years of sailing experience! Thanks Dave for the perfect week sailing on the west coast of Ireland. We will come back for sure and do the day skipper course with you. I highly recommend this experience for everyone who is serious about sailing.
Competent Crew 5 days €700
Become a Helping Hand on Deck
No sailing experience is required but after the 5-Day Competent Crew Course, you will sail with confidence on any other boat.
Develop your sailing skills and wind awareness under the watchful eye of your instructor. Time to go racing and cruising!
Skills You'll Learn
Helmsmanship and sail trim
Anchoring and mooring
"Strange boat words"
Man Overboard procedures
Sail handling
Time to Complete
5 Days – 1 long weekend (Sat to Mon – 3 days)
and 1 weekend (Sat & Sun – 2 days)
What's Included
Life jackets and wet weather gear provided.
Our training yacht is "Soilse" a Beneteau Oceanis 350
We provide all food on board and cover fuel costs and marina fees
I did the competent crew with Dave and completed successfully. Dave has a lot of sailing experience and had his years of learning on boats. His experience and his knowledge teaches he in a way that is very easy to understand yet still very profound. He is very fascinated about every aspects of sailing and boats and that makes it so much fun to learn from him.I really enjoyed learning from him because he has a very relaxed way of telling me what is needed yet still giving me the space to learn and practice.  He is very trustworthy and patient. His way of teaching is ideal for beginners and advanced sailors as he has a lot of experience and practical knowledge about every aspect of sailing and handling smaller and larger boats. I highly recommend Dave to anyone who wants to learn a lot and have fun while doing it.
Day Skipper Practical 5 days €700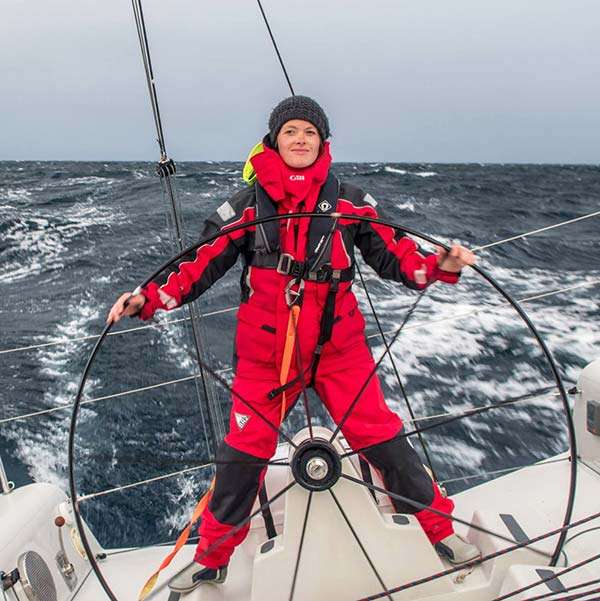 Hit a wall with your Sailing?
"Take Charge" …skipper safely and confidently. Learn to make good decisions at the right time to keep the crew and boat safe and sound.
Our charter holiday industry experience will teach you to stay in control under pressure.
Basic sailing ability and navigation knowledge to Day Skipper Theory level are required.
So, take your sailing skills to the next level with the Day Skipper Practical.
Skills You'll learn
Power handling in confined spaces
Weather forecasting
Sail selection and handling
Marine engine maintenance
Navigation and pilotage
Couldn't have asked for a better sail instructor. Dave was extremely knowledgeable, but was patient in passing on that knowledge to others. Our time on Dave's boat was an balance of intense learning experience, as well as great fun….. As an instructor, he helped us focus on the feel of a sail boat while learning to Skipper, rather than just the theory of it, a refreshing change to other courses I had previously been on. His love of the water and sailing inspired you to really want to qualify at the end of the course!
Day Skipper All-in-One 10days €1000
Sail the Med with friends and family!
Learn to fully plan a day's sailing.
"Take Charge"…skipper safely and confidently with the most competitively priced sail training in Ireland and the UK.
Our charter holiday industry experience will teach you to stay in control under pressure.
Join ALL the dots with Day Skipper All-in-One.
Skills You'll Learn
Power handling in confined spaces
Passage planning, navigation and pilotage
Tidal streams and secondary ports
Sail selection, reefing and handling
Marine engine maintenance
Time to Complete
5 days in the classroom
5 days on the water
What's Included
Life jackets and wet weather gear provided
Our training yacht is "Soilse" a Beneteau Oceanis 350
We provide all food on board and cover fuel costs and marina fees
The breadth of Dave's knowledge is both broad and detailed and he has such a calm and involved method of teaching that it is a real pleasure to be on a boat with him. I completed the dayskipper course with Dave on Dublin bay and finished the course with such an intense passion for sailing I immediately booked the Round Ireland mile builder with him. It's rare that you meet someone that has such an obvious desire to share understanding and is also a bit of craic, Dave O'Connor has both in spades!
ICC (Sail) Training & Assessment
1day €200
Have the sailing experience but don't have the cert?
The INTERNATIONAL CERTIFICATE OF COMPETENCY (ICC) is the perfect charter holiday solution if you have years of boating experience and a Yachtmaster or Day Skipper Theory Certificate.
We will advise what you need to revise before the assessment and what we need to work on, on the day.
Time to plan that holiday!
2 Part Assessment:
Practical Assessment (Day Skipper level)
Written Theory Assessment (Day Skipper level and higher)
Time to Complete
1 day
Note: Course date can be arranged to suit you
Certificate is valid for 5 years
Check out the official document links below;
ISA Assessment Guidelines
ICC Application Form
What's Included
Life jackets and wet weather gear provided
Our training yacht is "Soilse" a Beneteau Oceanis 350
We provide all food on board and cover fuel costs and marina fees
I did my ICC with Dave (Wild West Sailing) and could not speak highly enough of either the course or of Dave as an instructor. Dave provided a comfortable boat which was easy to handle, ideal for training and teaching. As an instructor Dave was first class, he has a friendly informal approach to keep everyone relaxed and has excellent communication and teaching skills. I did my ICC in a group and Dave spent as much time with each individual as was required. Not only did Dave cover the curriculum he also gave plenty of additional handy hints to make boating easier. Dave's years of experience are clear to see and he will throw in a few very entertaining stories at no additional charge for good measure. Really enjoyed the course and learned loads, I would highly recommend Dave as an instructor.
Coastal Skipper Course – French CruiseGalway – Kinsale – Scilly Isles (UK) – Lorient (France)10 Day Voyage 12th July €1000(Return voyage also available)
Sail a Race Yacht to France!
If you want to skipper longer passages confidently, or want to surf a fast yacht, this is the course for you.
Learn Yachtmaster Theory in practice while milebuilding 800 QUALITY sea-miles and complete qualifying passages for your RYA Yachtmaster exam.
On completion, you will have all you need for your RYA Yachtmaster Coastal exam.
Our Coastal Skipper Course will challenge you and push your skills but you will feel you have achieved something special.
Skills You'll Learn
Advanced Tidal and Passage Planning
Night Navigation & Chart Plotter use
Engine Maintenance and Troubleshooting
Practical Spinnaker Management
Advanced Helming Techniques, up & downwind
Having completed a truly amazing round Ireland trip with Dave in April i have recently finished my coastal skipper course on board Soilse. I cannot recommend dave highly enough, his calm exterior exudes confidence and instilled endless trust in the crew around Ireland and his competence and desire to share his vast knowledge of sailing proved invaluable in gaining my papers from the RYC. I am delighted to have met Dave and look forward to many more memorable sailing trips with him in whatever form they may take.
RYA Yachtmaster Preparation Course 7 Days (min.) €700
Become a Yachtmaster
The prestigious RYA Yachtmaster is the natural next step for Coastal Skippers, the vital next step to work in the sailing industry and the pinnacle for all serious sailors.
Our instructor will provide you with the country's top RYA Yachtmaster Preparation Course.
Skills You'll Learn
Mooring in all conditions
Night Navigation
Man Overboard recovery under sail and power
Restricted visibility (Blind) navigation and GPS navigation techniques
Close quarters handling under sail and power
Practicing these sailing skills and drills in an intense environment will not only help you pass your exam, but will make you a better skipper.
Time to Complete
5 days training & 2 days Exam Charter
What you'll do
A Yachtmaster is a more experienced Coastal Skipper, able to operate in tougher conditions for longer periods of time. You will command the yacht on short passages by day and by night and practice lots of close quarters boat handling techniques under power and sail. Your experienced instructor will tailor the course to your specific needs.
Yachtmaster Requirements
Navigation Theory to Yachtmaster Offshore Standard
50 days aboard
5 days as skipper
2500 miles logged (Half the qualifying miles must be tidal)
5 passages of over 60 miles including 2 overnight and 2 as skipper
VHF SRC certificate
Valid First Aid certificate
Yachtmaster Exam
The exam is conducted by an independent RYA examiner over 2 days with no more than 4 candidates on board at a time. The examiners allow you to show what you know rather than make life hard. With our personalised Yachtmaster Preparation courses, you may even enjoy your exam!
What's Included
Life jackets and wet weather gear provided
Our main training RIB is a Zodiac PRO II 500
Fuel costs and marina fees covered
I did the "Yachtmaster Prep" training course for both Yachtmaster Coastal and Offshore with Dave. I found him to be extremely competent and knowledgeable about what was needed for the course. He has a relaxed approach which helped a lot, as over the course I was allowed to focus on any areas I was weak on, in my case some marina manoeuvres in close quarters. I learned a lot from the course and I really enjoyed it too. I've done a raft of maritime courses over the years in and these were two of the best. This is why I went back for more and I've been recommending it ever since.
Book Your Wild West Sailing Experience!
Pay for your course by Bank Transfer of Paypal